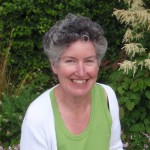 A degree in Landscape Horticulture coupled with a Masters in Landscape Architecture and many years of experience in design and project management, in the public and private domain, give Patricia a breadth of knowledge which translates into beautiful and atmospheric garden designs. As a qualified Landscape Horticulturist, she believes strongly that good landscape design should also be underpinned with good planting design and she offers a specialist consultancy in this area to other design professionals.
In addition to her design work, Patricia has had the opportunity to pass on that knowledge and experience lecturing in landscape and planting design to design students at third level at BFEI on their diploma course in Landscape Design.
Keenly interested in environment, nature and heritage she also believes that our designed landscapes should encourage nature and reflect the surrounding natural landscape, to create a design that is richer, with more depth and atmosphere.
She is an ALCI award winning landscape designer and most recently has won a Gold Medal and Best in the Small Garden Category at Bloom 2012.(click on the link to see video)
She is a member of the Garden and Landscape Designers Association (GLDA) of which she is currently Chairperson.