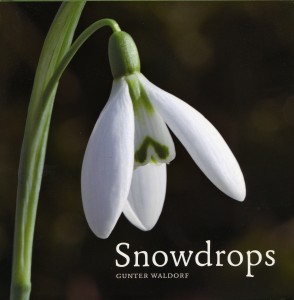 SNOWDROPS
By Gunter Waldorf
Frances Lincoln £14.99stg
ISBN 978-0711233850
What a wonderful book this is. Its size and simplicity echoing its subject matter; 300 varieties of snowdrops described and photographed in exquisite detail. The writing is straightforward and accessible and one imagines that it reflects the personality of its author, Gunter Waldorf.
Hugely informative, the book also covers species, planting and care, propagation and collecting snowdrops- galanthophilly.  Waldorf is quite amusing on the subject of inveigling choice bulbs from collectors – "Persistent begging is frowned upon. However….if you can convince someone that you would give your right arm or ten years of your life in exchange for a bulb, it is quite possible that you might actually make the shortlist…"
Often having mixed success with snowdrop bulbs, purchased in the autumn, I now know why – "Galanthus bulbs do not have the outer skins which protect against evaporation" and if lying around for a while will dehydrate and fail to grow.
Sadly, Gunter Waldorf died early in 2012 and one can only hope that he lived to see his book published. Luckily for us, he has left behind, in this book, a wealth of advice and wisdom, from a lifetimes experience. He was a specialist in Galanthus and Hemerocallis and found and named several snowdrops. With his wife, he ran a nursery in Nettetal am Niederrhein in Germany, where he stocked around 450 varieties of snowdrops.
This is a timely book for spring and visually so attractive that it would make a wonderful gift for any garden enthusiast.
Reviewed by Patricia Tyrrell