To walk by a lake at sunset can be a rich and memorable experience, how much better then to walk across a lake, dusk falling, water on either side, with the colours of sunset, the texture of the reeds and the movement of water birds on the lake. As a design element the sensation of walking over water is unrivalled.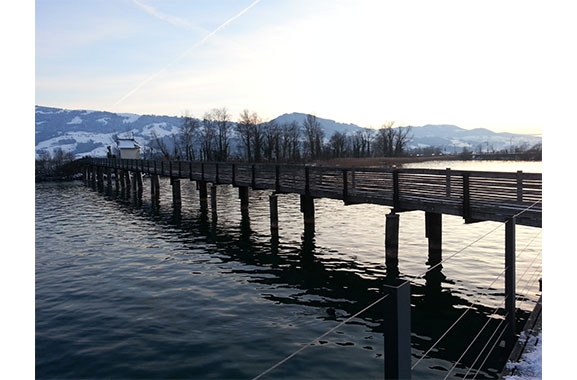 On a recent visit to Rapperswil in Switzerland I had the wonderful experience one evening of walking on the Holzbrucke Rapperswil-Hurden, to a local restaurant at the edge of Lake Zurich. Holzbrucke literally means wooden bridge, but this bridge is uniquely different, as it is almost a kilometre long and traverses a route that has been bridged almost continuously since Neolithic times. The first timber piles for the bridge discovered here date back to 1523 BC.
The original neolithic bridge which must have seen many reconstructions was replaced by a much larger wooden bridge, 6metres (20') wide, under the Roman emperor Marcus Aurelius (161-180 AD).
In 1358 the Duke of Austria, Rudolf IV built a 'new' wooden bridge across the lake that was used until 1878. This would have been quite a flimsy wooden walkway and in the middle ages the pilgrims of St. James would have taken the bridge as part of their route to the Santiago de Compostela.
In 1878 this bridge was broken simultaneous with the construction nearby of a stone dam, the Seedamm.
In 2001 a new wooden footbridge was constructed in the same location as the original Neolithic and medieval bridges. It links Rapperswil with the nearby bridge chapel (Heilig Husli) built in 1551 and on to Hurden in the canton of Schywyz.  The bridge, 841 metres long,  is constructed in solid oak with steel components. It is supported by 233 oak piles 7-16 metres long with diameters 36-70cm. Its path is about 1.5 metres above mean water level. The area between the bridge and the dam is designated as a nature reserve and is a very important waterfowl breeding area.